HR Communications Changes
We are excited to share that Human Resources communications will be undergoing a mini-makeover this summer. Here are some of the changes you can expect in the coming months:
The HR Bulletin
Publication of the HR Bulletin will be moved to a seasonal basis with enhanced content, including more in-depth stories spotlighting Bobcat life.
Email Communications
Starting June 1, you will receive important announcements and information regarding HR programs from 'hr@txstate.edu'
A dedicated email to supervisors will be sent biweekly;.
Our emails will be shorter – concise one-minute reads with links to our website for those who wish to take a deeper dive.
Website
The HR website will house in-depth content, detailed news, announcements, and resources
Though our communication strategy is shifting, our goal remains the same: providing you with access to timely and relevant information to enhance your Bobcat employee experience. As always, we would love to hear what you think. If you have any questions or wish to share feedback, please email Human Resources or call us at 5.2557.
Get Fit Texas Challenge Results
It's a wrap! The Get Fit Texas Challenge has ended, and the official results are in. Congratulations to the participants who stepped up and completed this challenge successfully.
The goal was to complete a minimum of 150 minutes of activity for at least 6 of the 10 weeks between January and March. Our official participant count came in at 375 with 146 individuals reaching the goal.
Competing in our division (1,001-5,000 employees) put us up against stiff competition from other state agencies that are veterans in this challenge, but we persevered. Texas State finished 8th overall in our division and topped all other higher education participants in our category.
Well done, Bobcats! We will be back next year!
As an extra incentive provided by our local WellCats team, we held a random drawing to provide some awesome prizes to our Texas State Bobcat participants. The lucky recipients are listed on the WellCats website.
After such a great performance, let's try and keep the momentum going. Texas State has plenty of resources available to help including Bobcat Balance, WellCats, and Campus Recreation.
Thank you to everyone for participating. Stay happy, healthy, and make sure to give someone a smile – you may just make their day!
Summer Enrollment Dates Announced
The Employees Retirement System of Texas (ERS) announced the dates for our Plan Year 2022 open enrollment. Dates for summer enrollment will be June 21 – July 23. During this window, employees will be able to make changes to insurance benefits for September 1, 2021 – August 31, 2022.
This is your annual opportunity to make changes without experiencing a qualifying life event. More details will be announced by email and in future bulletins. Now is a good time to make sure your address is up to date to make sure you receive important communications. Log in to the SAP Portal and navigate to the Payroll-Benefits area. Select the "My Personal Profile" tile to view and update your address.
Troubleshooting Tips for Required Training
Are you having issues completing your required training? Here are some suggestions to help resolve common problems related to accessing and/or saving progress of your training:
Make sure you are using the most recent version of Firefox, as the training is not compatible with any other browser (i.e., Chrome, Internet Explorer, Safari).
Make sure you are using a Microsoft PC computer and not a Mac computer.
You can use the table of contents button to toggle to next sections after successfully passing a quiz instead of clicking on the "continue" button.
If you see a prompt/message pop up to open each page in Acrobat, change it to "open in Firebox" and set it to "always," this will help with viewing the training slides in the browser in the window.
Coming Soon: Performance Management Toolkit!
June 1 marks the start of a new Performance Management Cycle. To help you learn the ins and outs of the Performance Management process, we're launching a new resource:
The Performance Management Toolkit!
What to Expect:
3 animated tutorial videos with screen recordings, 1 for each phase of the Performance Cycle.
A FlippingBook user guide with detailed instructions for both employees and supervisors.
A revamped Performance Management Website.
More information coming soon.
New PCRs On the Way
The current Adobe Personnel Change Requests (PCRs) will be migrated in mid-May to new applications. Human Resources, Faculty Academic Resources, and Technology Resources are working to deliver PCRs and their approvals to campus in a new, friendly format. The key reasons for the migration are:
Internet Explorer is no longer required. Most browsers support the new PCR applications.
Issues with Adobe are eliminated.
PCR approvals can be actioned on a mobile device.
With the migration, PCR initiators will still see the same functionality, error messages, warnings that were previously included with the Adobe PCRs.The search functions and search results are more robust and offer features to quickly zero in on the employee needed for the change request. Initiators will see that buttons have moved around a bit, buttons that were at the bottom of a page may now be at the top. Initiators will also be able to, if desired, print the PCR to a PDF before sending the PCR for approval. In addition, initiators will have a new PCR monitor report to track their PCRs.
PCR approvals will now occur via My Inbox rather than the Universal Worklist. A key improvement for PCR approvers is the ability to approve or reject a PCR from their mobile device. Approving from a mobile device should keep the workflow moving quickly and avoid delays that could lead to payroll retroactivity for the employee. A key item for approvers to keep in mind is that some Adobe PCRs will be in the approval process during this migration. Any in process Adobe PCRs will need to be approved using the Universal Worklist, any new PCRs will be approved in My Inbox. Once all the Adobe PCRs have been approved or rejected, the Universal Worklist will be retired and all PCRs will be approved through My Inbox instead.
Human Resources and Faculty Academic Resources will provide training on the new application as part of their regularly-scheduled PCR training. Look for an email that will announce the migration and include guidance on PCR initiation, PCR approvals and substitution via My Inbox.
Academic Release & Tuition Support Program
Submit your forms by June 4!
Are you thinking about taking credit courses this summer? Our team would like to remind you that if you are a full-time benefits-eligible employee and in good academic standing, you can participate in university credit courses and have certain fees and designated tuition waived. You may receive paid class release time to attend courses, if held during your normal work hours.
Who Should Submit the Form?
Individuals who are requesting:
paid leave,
to opt out of the waiver,
to have tuition and fees paid by your department.
You must complete the online form which is available in SAP, under the ESS+ tile. Please note that you do not need to complete this form to receive fees and designated tuition waivers. Student Business Services (SBS) will identify eligible employees and apply the waivers after grades post.
When Is the Form Submission Deadline?
All approved forms are due by June 4, which is the 4th class day of the summer semester.
Where Can I Find More Information?
For more information, please view the following video or visit the Academic Release & Tuition Support website. For guidance and instructions on the process and form completion, please review the Employee User Guide and Supervisor User Guide. You may also review UPPS 04.04.35 Professional Development and Educational Opportunities for more details on the requirements and restrictions about this program.
Please Contact Elizabeth Cruz at 5.2283 if you have any questions.
Staff Educational Development Leave Program
Submit your application by June 15!
Are you thinking about going back to school? Did you know that the Staff Educational Development Leave Program provides a wonderful opportunity each fall and spring semester for up to seven full-time benefits-eligible staff who have been part of Texas State for one year to receive special support for degree work?
What are the benefits?
If you meet the requirement for eligibility, you may receive up to 20 hours per week of release time for courses taken at Texas State or other accredited higher education institution. Selected employees can earn nine to 12 credit hours for an undergraduate program, and six to nine hours for the graduate program. And guess what? Fees and tuition are waived! Plus, even though you have the option to work part-time, you will keep your full-time rate of compensation.
Where can I find more information?
For more info, please visit the following video or UPPS 04.04.35 Professional Development and Educational Opportunities for details regarding eligibility and application procedures.
How do I apply?
Each semester members of President's Cabinet nominate employees within their division for a chance to participate in this program. You can apply on our Staff Educational Development Leave website!
Who do I contact?
Please contact Elizabeth Cruz at 5.2283 if you have any questions.
Tips from the Training Corner
Forging Successful Transitions for Every Bobcat
As we ramp up efforts to create and transition operations toward our 'new normal', many of us are wondering how to navigate post-pandemic concepts while the pandemic is still very much present. This month's Tips From the Training Corner focuses on facing this transition head on. Keeping safety, human needs, and communication as our top priorities, we can successfully create a path back that works for everyone.
Safety first | Perception, reality, and respecting both. Safety is, as it should be, our community's priority as we continue to navigate our expansive mission during a pandemic. Anxious to return to the office? You are not alone. Perhaps you're feeling quite the opposite, having worked on campus through the pandemic by nature of your role's duties, or feeling 'over' the pandemic. You are also not alone. No two Bobcats' perceptions and experiences of this pandemic, including our current transition period, are the same. This is a reality we must respect.
We must also work together to acknowledge that Bobcats feeling safe is just as important as upholding health and safety guidelines known to keep us safe. How do we help everyone on the team feel safe, knowing this transition won't accommodate everyone's perception? Considering how diverse our departments missions are, here are a few tips to get you started:
Tip 1: Use the COVID-19 dashboard to your team's advantage.
The university has a COVID-19 Dashboard with updated data on our campus health status. This resource can help your team make choices in advance, so everyone involved knows what to do before the time comes for adjusting operations. Set a metric (for example, positivity rates or case numbers per county that a team member reports to or works in) that names if/when your team members with remote flexibility need to plan to work from home or resume reporting to campus offices. Objective data, like the dashboard provides, help us all make decisions in uncertain times.
Tip 2: Set up clear plans, refining them as a team.
Additional data, like a clearly communicated and accessible plan, can help every teammate navigate transitions like this more smoothly. If a team member who was recently in office around others is diagnosed with COVID-19, what is the plan for the rest of the operation? Does your team know what to do (and when) if the county your campus is in experiences another wave of infections? You can plan for these scenarios as a team and be ready to adapt without hesitation. For those who do not have direct reports thinking you should skip this tip, we invite you to reconsider. We are all part of the planning process, and that includes you too!
Reminder: Humans work here | After safety, we must address the impact the pandemic (among countless other crises) continues to have on our organization's key asset: our Bobcat community. Each of us, after all, are human beings. The stresses we individually and collectively carry cannot be ignored for us to forge ahead successfully. We can't train you up on resolving all human stresses in one article (wouldn't that be great?), but we can supply a few tips to try out in coming months:
Tip 3: Keep your team connected at a (professionally) personal level.
If deliberate efforts to support connection within your team is not part of your work experience right now, today is the day to change that! Maybe you got this one down as a team in the last year, be it a weekly 15-minute informal meeting to catch up or an entertaining team thread just for gifs and jokes. Fantastic! Be sure you adapt this and continue to include everyone who contributes to the team to feel like part of it, regardless of who is working where.
Managing Projects as Offices Reopen approaches the transition from another valuable lens, and explores ideas worth your attention on the human factors of transition:
Part of your connection as a team can include brainstorming ideas and solutions to challenges your operations face. Every Bobcat in our community could bring an innovative idea to the table. So, connect while you solve the day's problems. Encourage collaboration within your team to find and propose changes as you navigate what 'the new normal' will look like in your department. LinkedIn Learning course Practical Creativity for Everyone: A process for generating better ideas (37m) explores how to kickstart the thought process. Don't have 37 minutes? Quick takeaways from Alternatives to Brainstorming (2m, 10s):
Think independently on the issues, generating ideas.
As a group, develop and improve ideas brought to the table.
Think outside of 'work mode' when considering solutions.
Communication is Still key | Working together on challenges keeps us connected as a team and in tune with each other as humans. One last key training aspect keeps your transition moving smoothly…communicating well throughout the process. If there's one opportunity we encourage leaders reading this to take advantage of, its reading ATD's March 2021 blog 6 Communication Tips to Keep Employees Engaged During Change. This quick read was first introduced in March's Tips from the Training Corner and deserves a second shout-out: these communication strategies are key for solid change management, including right now!
Tip 4: Keep communication basics in mind.
It sounds obvious, but Communication Foundations (1 h 22m) can guide all of us toward a successful experience transitioning back to campus. Consider all four 'building blocks' of communication as conversations, concerns, and ideas about upcoming changes arise: the people, message, context, and listening.
As we navigate through continually changing times, pausing to consider communication building blocks can make or break how your message is received. Likewise, ensuring your active listening skills are in use will be key for every team's success within our community. The empathy used in true active listening is exactly what every Bobcat needs right now - don't be shy to show it!
Forge on with Four Tips:
To recap, four key tips will help us forge ahead in our transitions back toward full face-to-face operations at Texas State:
Use the COVID-19 dashboard to your team's advantage.
Establish clear plans, refining them as a team.
Keep your team connected on a human level.
Keep communication basics in mind.
Regardless of your role on our team, your contribution is vital to our success as an organization. Let's make our 'new normal' outstanding, Bobcats.
Join us in welcoming our new employee Bobcats!
Employees hired between March 1 - March 31
Rosaura Aguirre, Research Coordinator, College of Health Professions
Ashley Barrera, Animal Care Technician, Research & Sponsored Programs
Carole Clerie, AVP Human Resources, Office of Human Resources
Corbin Hanzel, Senior Lab Services Technician, Department of Engineering Technology
Ashleigh Holley, Administrative Assistant II, Science & Engineering Academic
Advising Center
Daniel Holmes, Programmer Analyst II, Mobile/Web Systems
Rachelle Homer, Executive Assistant, University Advancement
Glenda Jones, Library Assistant II, University Libraries
Alexia Martinez, Animal Care Technician,Research & Sponsored Programs
Courtney McKenzie, Audiologist, Communication Disorders
Adriana Mendez-Jimenez, Grant Specialist, Meadows Center for Water & the Environment
Celeste Munoz, Grant Specialist, Family & Consumer Sciences
Marshal Penn, Technology Integration Specialist I, Learning Spaces
Daniel Prince, Research Analyst, Office of Institutional Research
Melanie Psencik, Academic Advisor I, Applied Arts Academic Advising Center
Samuel Regonini, Major Gift Officer, Development
Virginia Turrubiarte, Contract Specialist, Procurement and Strategic Sourcing
We remind all new staff employees hired during the past month that N.E.W. is designed to provide useful information to new staff regarding the resources, benefits, and opportunities associated with employment at Texas State University. For more info and to connect with other new bobcats access the official new employee website.
New Employee Welcome

: Friday, May 14, 2021
In accordance with CDC guidelines of social distancing, monthly N.E.W. II sessions will be held virtually via Zoom from 8:30 – 11:00 a.m. Visit our updated N.E.W. II website for more information.
Contact the Office of Human Resources with questions at hr_odc@txstate.edu or call 5.7899.
Bobcats On The Move
Congratulations to the following employees who were promoted or reclassified. Employees promoted or reclassified between March 1 - March 31.
Daniel Bautista, Promoted to Head Custodian, Department of Housing and Residential Life
Kimberly Burns, Promoted to Administrative Assistant III, Chemistry and Biochemistry
William Jackson, Promoted to Air Conditioning Mechanic II, Department of Housing and Residential Life
Terrence Johnson, Promoted to Head Coach, Men's Basketball
Asela Luna, Promoted to Head Custodian, Department Housing and Residential Life
Brian Mckay, Promoted to Director, Facilities Management
Kassaundra Nesbitt, Promoted to Accountant II, Office of Research & Sponsored Programs
Ryan Douglas, Reclassified to Laboratory Manager, St. David's School of Nursing
Joseph Kristoff, Reclassified to Crew Supervisor, Utility Operations
Benjamin Rogers, Reclassified to Assistant VP, ITAC
Texas State Employee Discount Program
The Texas State University Employee Discount Program is the exclusive discount marketplace for you and your fellow employees. Thank you so much for all your hard work and continued support!
Oakley | Get 25% off and free shipping on Oakley sunglasses and apparel.
Calm | Sleep more, stress less, and live better with 57% off a one-year subscription.
Ylighting | 10% off site-wide on pendant lights, chandeliers, and more!
March Employee of the Month
Yssa Schulte, LVN., Nurse, Student Health Center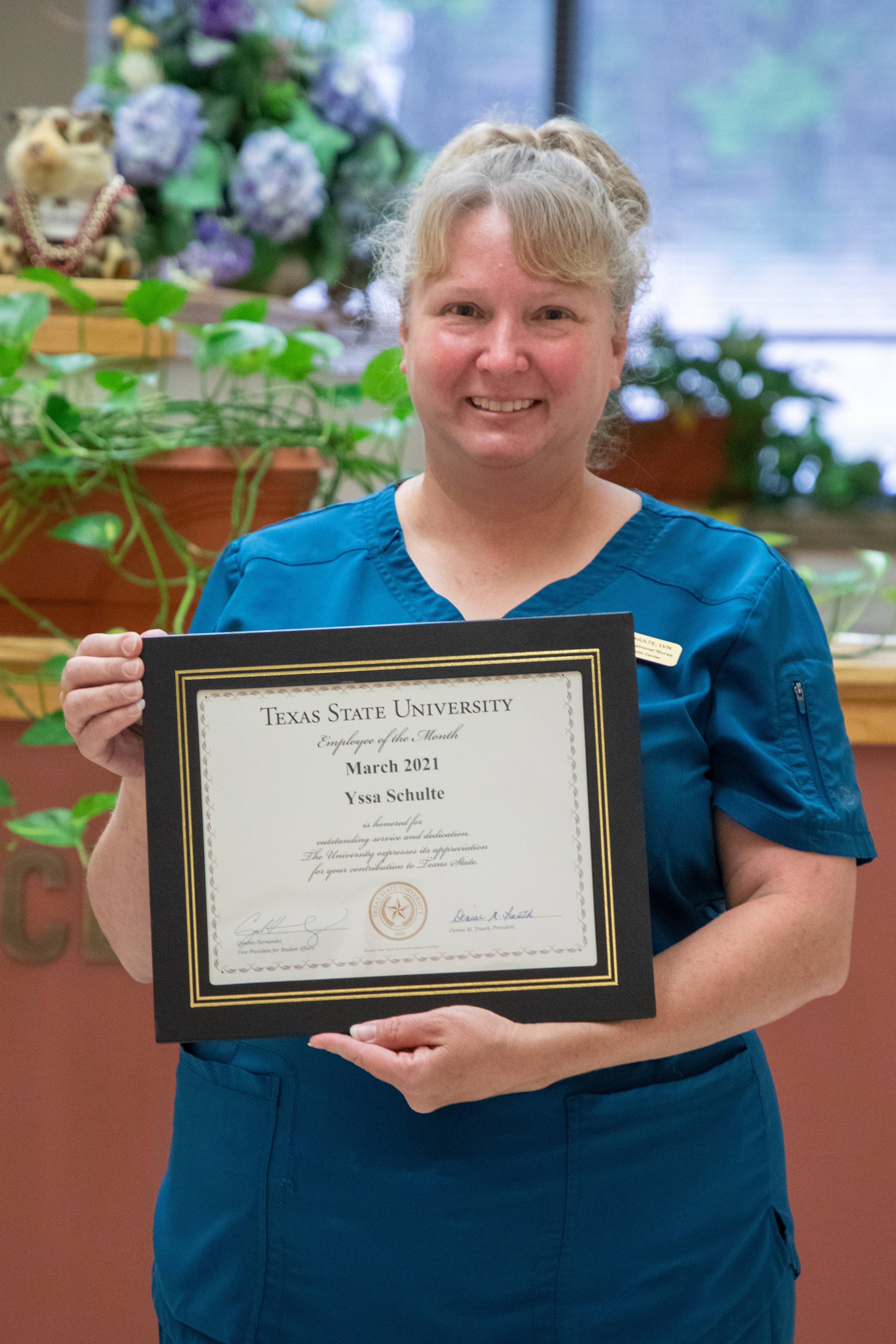 Yssa joined the Student Health Center in 2015 and has demonstrated outstanding commitment to both the Health Center and the patients for whom she has cared. The pandemic created a variety of new challenges for the Student Health Center. Developing a safe process for performing COVID-19 tests on potentially infected patients was an early challenge.
Yssa took the lead on creating and training the COVID-19 Testing Team. Performing COVID-19 testing was one of the highest risk responsibilities at the Health Center. Despite the risk, Yssa and her team safely performed over 2,000 COVID-19 tests. No member of the testing team has been infected while providing the service which is a testament to the effectiveness of the testing protocols and training.
Yssa has also been instrumental in assisting the Student Health Center to prepare for COVID-19 mass vaccinations. Yssa has had a lead role in vaccination site planning and preparation. She ensures that all the necessary medical supplies are available to support the vaccination event. The goal of the COVID-19 mass vaccination program is to administer 2,000-3,000 vaccinations per week if vaccine is available.

While Yssa has assumed these important responsibilities during the COVID-19 pandemic, she has also continued in her role as a medical provider assistant. Yssa prepares patients for their medical visits and assists her provider with office procedures and treatments. Patients appreciate her friendly and reassuring demeanor and give her high marks for patient care.
Congratulations, Yssa, on being recognized as the March Employee of the Month!
April Employee of the Month
Naybila "Nay" Aikawa, Administrative Assistant, College of Liberal Arts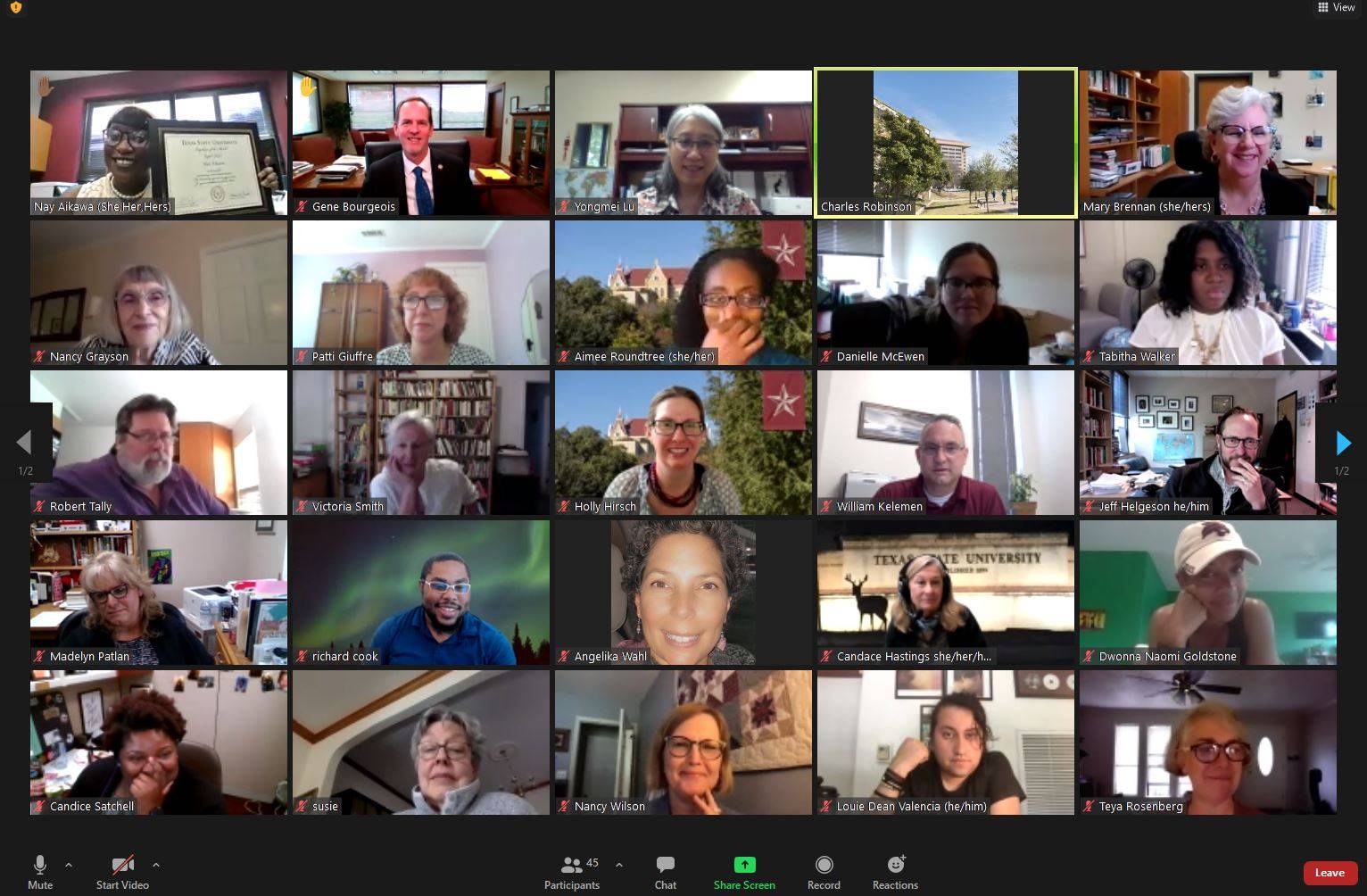 Throughout the pandemic, Nay has been in the office almost every day. As others across the college work from home, Nay supports their work, often helping them figure out ways to fulfill their responsibilities so they do not have to come into the office. When mail service to campus stopped, she went and picked up the mail. When office staff have trouble figuring out how to forward calls to TEAMS, she worked with them to make that happen. She performs her regular job duties and does so with diligence and care for one of the largest colleges in the university.
Nay is a tireless advocate for students. She draws from her own experience as a former student of Texas State to offer every conceivable support to current students. She serves as a resource for students who do not know if they are eligible for work study money.
Nay recommended that the college start a media association for students to increase and support student involvement and she promoted research by organizing a research community event. She also helped to facilitate the new mentoring program in the college.
Nay helps to recruit students for the African American Studies (AAS) program by creating flyers for posting on campus as well as assisting with AAS programming. She serves on the AAS Advisory Board, assists with creating the agendas and takes notes. Nay suggested several events for Spring and handled most of the logistics to make sure the events could be held with no problems.
She also serves as the advisor for the National Society for Collegiate Scholars, actively participates with the Coalition of Black Faculty and Staff and serves on the Staff Resources Committee. Nay is a member of the inaugural class of the Bobcat J.E.D.I. (justice, equity, diversity, inclusion) program which requires participants to attend numerous professional development courses related to diversity, inclusion, multiculturalism, ability, social justice, and equity.
Nay goes above and beyond the responsibility of her job description to help students, faculty, and staff. She is organized, professional, personable, and is considered a "go to" person on campus for the College of Liberal Arts.
Congratulations, Nay, on being recognized as the April Employee of the Month!