Introducing: Carole Clerie!
Assistant VP for Human Resources
Following John McBride's retirement from a long and successful career, Carole Clerie joined Texas State University as the AVP for HR on Mar. 15.
McBride and Clerie are working together for the first few weeks to ensure a smooth transition of the role. In addition to learning about the history and evolution of the department and University, Clerie is meeting one-on-one with members of the HR team and with various stakeholders on campus to gain an understanding of the current state of HR and assess the campus needs.
Previously, Clerie served as the chief HR officer at Columbus State University in Columbus, Georgia, and was selected through an extensive external search. "I am honored to be selected to serve such a dynamic and student-focused institution, and look forward to continuing to build upon the foundation that was laid by the HR leaders that served before me," she said.

A native of Evanston, Illinois and a graduate of Florida Atlantic and Lynn Universities, Clerie has held various roles in HR, starting her career in a technical support role. She served as CHRO for two institutions within the University System of Georgia for four years, and prior to that, served as the Director of Employee Services at Lynn University for ten years.

Clerie says having a technical background has helped her understand and leverage technology in order to streamline business processes and improve service delivery to HR constituents. She is also an avid participant and promoter of employee well-being and personal development, which she describes as "critical elements for employee engagement and long-term sustainability of a healthy and happy campus community."
"I look forward to collaborating with my new colleagues at Texas State to meet the needs of current employees, and create a welcoming and inclusive space for the next generation of staff and faculty." -Carole Clerie
Prepay Your Summer Insurance Premiums
Faculty, staff, and graduate students scheduled to return in the fall but not expecting to receive a paycheck each month this summer may elect to have their insurance premiums payroll deducted in advance on their June 1st paycheck. Those employees enrolled in salary spread do not need to pre-pay.
What are the Advantages of Prepay?
The amount will be tax-sheltered, since premiums are payroll-deducted.
It is convenient. Just complete the electronic authorization form, and we will take care of the rest!
How Do I Sign Up?
Look for a memo sent to you directly by e-mail in April. This will include a personalized statement that shows your out-of-pocket costs for summer coverage. Complete the authorization form online and we'll handle the deduction.
Are There Other Options?
Yes, you may also pay by personal check or money order/cashier's check. These payments must be made timely and a schedule will be included in the April memo mentioned above.
Questions? Contact the HR Benefits team at 5.2557.
New Automated HR Phone System
Human Resources is excited to announce a new automated phone system to better serve our customers. You will now have easier access to the section you desire to speak with for immediate assistance. More information coming soon!
Save the Week: Staff Resources Virtual Fair!
April 12 - 15 | Zoom
The Staff Resources Committee has rescheduled the Staff Resources Virtual Fair to April 12 -15, 2021. Stay up to date with the latest changes by visiting the Virtual Fair Week website!
WHAT CAN YOU EXPECT?
• A chance to view and listen to several department updates, per division.
• Attend a virtual interactive fair that offers multiple sessions and a flexible schedule.
• A chance to connect with different department representatives on different days.
• Learn about new services, resources, and/or organizational changes across campus.
Plus, you can enter a chance to win a prize by completing our "What did you learn?" form after each attended session. Each submission will increase your chance of winning one of our grand prizes, including:
• Dinner for two at the Leaning Pear in Wimberley ($50 value)
• Gift cards to the Industry ($25 value)
• Gift card to Summer Moon Coffee ($20 value)
So mark your calendars for April 12 – 15 to learn about the services and resources we have at Texas State!
Please contact the Staff Resources Committee for more information.
Academic Release & Tuition Support
Forms Due June 4!
Are you thinking about taking credit courses this summer? Our team would like to remind you that if you are a full-time benefits-eligible employee and in good academic standing, you can participate in university credit courses and have certain fees and designated tuition waived. You may receive paid class release time to attend courses, if held during your normal work hours.
Who Should Submit the New Form?
Individuals who are requesting:
• paid leave,
• to opt out of the waiver,
• to have tuition and fees paid by your department.
You must complete the online form which is available in SAP, under the ESS+ tile.
When Is the Form Submission Deadline?
All approved forms are due by June 4, which is the 4th class day of the summer semester.
Where Can I Find More Information?
For more information, please view the following video or visit the Academic Release & Tuition Support website. For guidance and instructions on the process and form completion, please review the Employee User Guide and Supervisor User Guide. You may also review UPPS 04.04.35 Professional Development and Educational Opportunities for more details on the requirements and restrictions about this program.
Please Contact Elizabeth Cruz at 5.2283 if you have any questions.
New PCRs Coming Soon!
Personnel Change Requests (PCRs) will soon have a new look and feel! The PCR functionality will remain the same but will include changes in PCR initiation, approval, and establishment of substitutes. Look for more details in the May HR bulletin.
American Rescue Plan Act
The American Rescue Plan Act of 2021, also called the COVID-19 Stimulus Package or American Rescue Plan, is a $1.9 trillion economic stimulus bill passed by the 117th United State Congress and signed into law by President Biden on March 11, 2021.

While this Act contains a multiple of provisions, there are some affecting employers and the benefits provided to workers. For example:

Extended expanded unemployment benefits through September 6, 2021
Subsidizes 100% of premiums for COBRA recipients from April 1 to September 30, 2021

We will continue to evaluate the impact of this Act at Texas State and update how it affects you and our benefit programs. Updates will be provided on our HR COVID-19 Workplace Updates website.
Performance Review:
Self-Assessments Now Open!
The performance review process kicks off April 1. Employees can then access and complete their online self-assessments in Performance Management/SAP SuccessFactors, using either the link in the Document Creation Notice sent via email by SAP or by accessing the Performance Management website.
Resources
The self-evaluation is your opportunity to rate your performance for the past year and to prepare for your upcoming performance review with your supervisor. Here are some resources that may be helpful when writing your evaluation:
If you have any questions or need training, please call 5.2557 or email the Performance Management team. .
Tips from the Training Corner
How to Prep for Performance Review Season
As our annual staff performance review season kicks off within our community, this month we will explore training with the goal of taking ownership of this important part of your job and performance cycle. After all, this meeting is about your top priority: YOU. You've worked hard all year (and what a year it's been.) Here are a few training tips that can help walk you through how to feel ready (dare we say, excited?) for your review.
Why It Matters | Let's address the real question in the room: who's excited about their performance review? All of us should be raising our hands as we read this. Author, executive coach, and Association for Talent Development blog contributor, Morag Barrett, tells us why:
"When it comes to the world of work, it can sometimes feel like organizations have kept the worst of the old school report card process. Many ask, "Why do I need to do a self-evaluation?" But if you don't spend the time to acknowledge your contribution and results, why on earth would you expect others to do so? Managers are people too (I know it may be a surprise to some of you), and they need to pay attention to their self-assessment as much as they do discussing YOUR performance."
At Texas State, we self-assess as the first step of the performance review to ensure that performance reviews start at, and actively involve, the most important aspect of your performance throughout the process: YOU. You have the power to achieve your job duties and goals. You have the power to decide which of your strengths you use every day. You have the power to make your performance review work for YOU.
If you take one tip from this month's training corner, make it five minutes dedicated to Self-driven performance management. It's a quick, straightforward perspective on the 'why' behind making your review beneficial for yourself, not simply an annual expectation (or dreaded process).
Deep Dive Opportunity | The Future of Performance Management (1h 8m) offers a larger scope of what the performance review process we have at the university, including a glimpse at the past approaches for reviews, performance in teams, and fueling high performance.
It Starts with You | You're on board with an enthusiastic attitude toward your performance review. Now what? Surprise, surprise… it starts with you. Preparing for Your Review is a great 26-minute training opportunity in LinkedIn Learning that empowers you with 'how-to guidance' on how to prep for this important step.
Training Tip: The first two sections of this course cover weekly reviews and what to do 'three months out.' Our recommendation? Take these as ideas for the future and do your best to collect documents the instructor speaks to for this upcoming review. Then, focus on guidance for Two months out: Getting organized (3m) and forward as we move through the performance review cycle.
An empowering experience during your performance review also comes from being familiar with your environment. Typically, 'environment' may queue thinking about your physical surroundings, which are great to be mindful of. What we are speaking to today is familiarity with the virtual environment where your performance review lives: TXST's Performance Management site.
A valuable exercise to feel comfortable could include setting aside five minutes at a time to explore the site, peruse the Employee Self-Assesses user guide (before it's time to complete the self-assessment) and become more comfortable with the tools the system offers. Do what feels best for you and your understanding of the system; learners do not take in new information the same way, and that's okay!
Welcoming Feedback | All the preparation and tool familiarizing we've done culminates into one conversation: your 1 on 1. As valuable as your preparation is, how this conversation goes does not rely solely on your performance or self-assessment. It relies heavily on how you and your supervisor both give and receive feedback when you meet. At just under an hour, LinkedIn Learning's Giving and Receiving Feedback: The art and science of feedback (48m) covers a few key aspects of feedback that are worth a few learning breaks:
The Experience of Feedback (traps, blind spots, and the psychology of perspective; 14m)
Receiving Feedback well (18m)
Giving Feedback Effectively (14m)
While an annual review may never be the highlight of your year, it's an opportune time to reflect on and highlight your professional accomplishments from the past year. Approaching your performance review with a self-driven mindset keeps you in the driver's seat of your own career, right where you should be. A few short training opportunities can guide you through key steps in both preparing for your self-assessment and the feedback you'll engage in with your supervisor. Keeping these concepts fresh throughout the year may leave you excited for your own 'report card' this time next year.
While an annual review may never be the highlight of your year, it's an opportune time to reflect on and highlight your professional accomplishments from the past year. Approaching your performance review with a self-driven mindset keeps you in the driver's seat of your own career, right where you should be. A few short training opportunities can guide you through key steps in both preparing for your self-assessment and the feedback you'll engage in with your supervisor. Keeping these concepts fresh throughout the year may leave you excited for your own 'report card' this time next year.
TRS Contribution Increases
As a reminder, in 2019 the Texas Legislature passed Senate Bill 12 which calls for gradual increases in employee and employer contributions to the Teacher Retirement System of Texas (TRS). These increases help to make the TRS pension fund actuarially sound. The first of these increases for employees is scheduled to take place with the 9/1/2021 pay date. The employee contribution will increase from 7.7% to 8%.
Upcoming TRS Contribution Increases
Calendar Date
State Contribution
Active Employee Contribution
9.1.2019
7.5%
7.70%
9.1.2020
7.5%
7.70%
9.1.2021
7.75%
8%
9.1.2022
8%
8%
9.1.2023
8.25%
8.25%
9.1.2024
8.25%
8.25%
Self Care
By: Katelin Bailey, Meagan Gardner, and Emily Lowry;
WellCats Group Exercise Instructors and
Doctor of Physical Therapy Graduate Students
Do you ever feel like you are constantly putting others before yourself? That you have put their needs before yours, time and time again?
So, what exactly is "self-care"? According to the World Health Organization (WHO), "self-care is what people do for themselves to establish and maintain health, and to prevent and deal with illness." We often forget the importance of making time for ourselves in our busy lives; however, self-care is important to our health day by day.
When you take the appropriate steps to care for yourself - mind, body and spirit - you'll be more equipped to deal with the inevitable challenges of life and be your best self.
Physical Self-Care:
Are you getting adequate sleep each night?
Are you taking care of your health (regular check-ups, health screening, etc.)?
Are you getting enough exercise?
Mental Self-Care:
How often do you engage in activities that mentally stimulate you?
Are you partaking in a career or activity that is fulfilling and exciting to you?
Spiritual Self-Care:
Do you currently engage in spiritual practices that you find fulfilling?
What questions do you ask yourself about your life and beliefs?
Do you have a life purpose about which you are passionate?
Social Self-Care:
What are you doing to nurture your relationships with family and friends?
Do you feel supported and safe in your current social environment?
What do your answers to these questions tell you about the amount of time and energy you are investing in yourself? Try to focus on one or two of the dimensions of self-care that you feel you could improve. Set at least two goals that you feel could improve your self-care routine! Self-care is a critical component of overall health and wellness. It is often forgotten that to help the people that we care about we must first help ourselves. Practicing self-care allows for personal growth and has a positive impact on both you and everyone that surrounds you. Focus this month on setting time aside in your schedule to focus on you!
Join us in welcoming our new employee Bobcats!
Employees hired between February 1 - February 28
Kevin Castello, Grant Specialist, Small Business Development Center
William Cates, Library Specialist, University Libraries
Jeremy David, Grant Specialist, Small Business Development Center
Brian Gamble, Assistant Coach, Football
Vanessa Garcia, Library Assistant II, University Libraries
James Larry, Network Administrator, Network Operations
John Motes, Plant Mechanic I, Utility Operations
James Turner, Assistant Coach, Football
We remind all new staff employees hired during the past month that N.E.W. is designed to provide useful information to new staff regarding the resources, benefits, and opportunities associated with employment at Texas State University. For more info and to connect with other new bobcats access the official new employee website.
New Employee Welcome

: Friday, April 9, 2021
In accordance with CDC guidelines of social distancing, monthly N.E.W. II sessions will be held virtually via Zoom from 8:30 – 11:00 a.m. Visit our updated N.E.W. II website for more information.
Contact the Office of Human Resources with questions at hr_odc@txstate.edu or call 5.7899.
Bobcats On The Move
Congratulations to the following employees who were promoted or reclassified. Employees promoted or reclassified between February 1 - February 28.
Victoria Elizondo, Promoted to Academic Center Coordinator, International Studies Program
Patrick Ryan, Promoted to User Services Consultant II, Managed Services
Jeremy White, Promoted to Grant Specialist ( SDS II), University College
Texas State Employee Discount Program
The Texas State University Employee Discount Program is the exclusive discount marketplace for you and your fellow employees. Thank you so much for all your hard work and continued support!
Nike | Get in gear for the beautiful weather with up to 40% off new markdowns on shoes, apparel, and more!
HelloFresh | Get 50% off your first box and 15% off ongoing deliveries of easy, seasonal recipes from HelloFresh, America's #1 meal kit.
Microsoft 365 | Save 30% off an annual subscription to Microsoft 365 home or personal for access to apps and 1TB of OneDrive cloud storage!
Daily Steals | Browse deeply discounted products with an extra 15% off electronics, fashion, home essentials, and more!
February Employee of the Month
Jonathan Tyner, Ph.D., International Affairs Coordinator, International Student & Scholar Services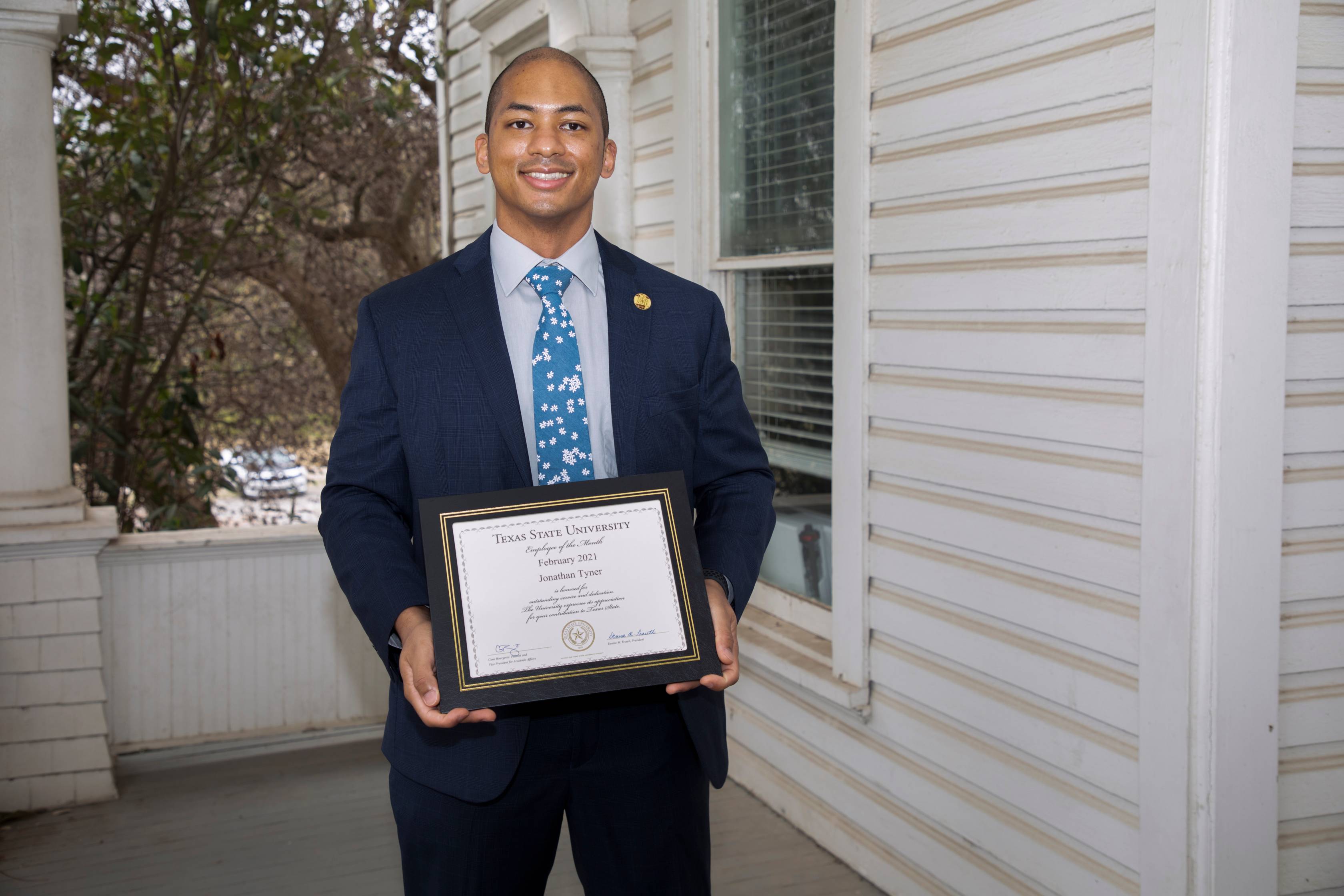 As Coordinator of International Affairs, Dr. Tyner is responsible for the daily happenings of the international students attending Texas State University. He helps them with immigration law questions, guides then when dropping classes since registering below hours is not permitted for international students, on-campus employment, obtaining social security numbers or driver's license, transferring into or out of Texas State, as well as whenever in need no matter the issue.
Jonathan compiles data regarding international students and scholars for the university and for outside professional organizations. He also coordinates many events for the students and scholars throughout the year such as the Welcome Social, San Antonio Rodeo trip, camping trips, Nigerian New Year, Persian New Year, Chinese New Year, and many others. There are about twenty events annually coordinated by Jonathan.

Jonathan regularly goes beyond his regular duties, especially when emergencies or other serious situations arise. Jonathan often uses his personal time and resources to help students and sometimes parents ease their burdens, anxieties, and pain. He is professional and warm, has a "limitless supply of happiness and good will" for the students and the staff in the office.
"He works until the work is done."

While working in International Student & Scholar Services, Jonathan graduated with his doctorate in education. Dr. Tyner embodies everything it means to be an outstanding employee as well as an amazing Texas State Bobcat.
Congratulations, Jonathan, on being recognized as the February Employee of the Month!
A Final Note:
from John McBride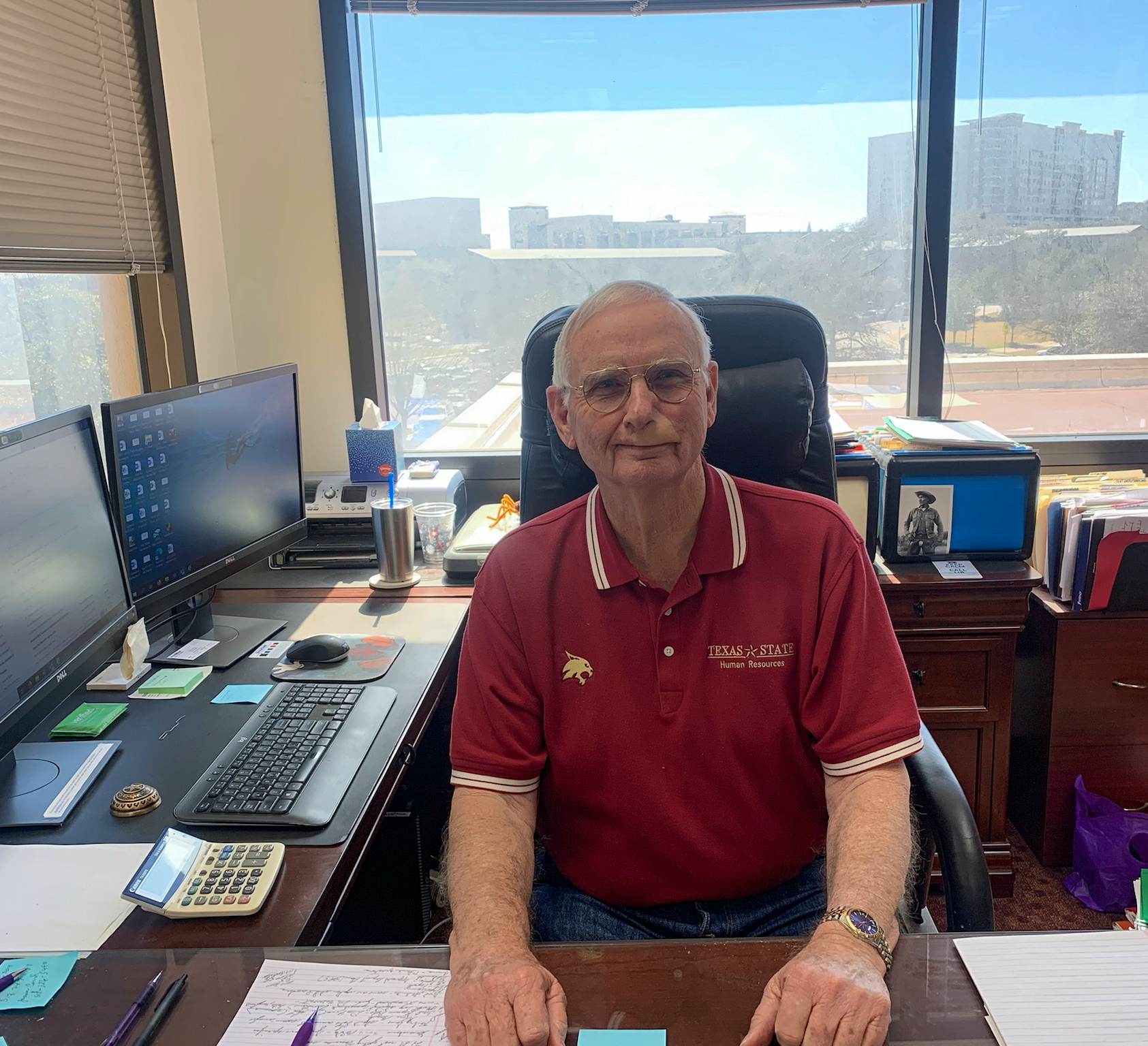 Dear All,

This is my final HR Bulletin as I am retiring effective March 31, 2021, after 40 years as the Director/Assistant Vice President for Human Resources at Texas State.

I want to thank all of our HR Bulletin readers for the great support that has been shown for this publication over its many years of service. As things move forward, and with your continued support, it can only get better and better as a tool to help meet your needs for timely and important HR communication.
Sincerely,
John E. McBride
Assistant Vice President for Human Resources
Texas State University